Ensuring high-quality contraceptive services are available is a critical part of delivering rights-based family planning services. Measuring quality of family planning services is complex and multi-dimensional—for this section, we are limiting our focus to FP2020 Core Indicator 14, the Method Information Index. However, we recognize that there are many other important aspects of quality that must be examined in countries.
Core Indicator 14, the Method Information Index, serves as a proxy for quality of counseling and reflects the extent to which women are informed about side effects and alternate methods. The MII is a summary measure constructed from three questions asked of current contraceptive users about the occasion when they obtained their current method:
Were you informed about other methods?
Were you informed about side effects?
Were you told what to do if you experienced side effects?
The MII value is the percentage of respondents answering "yes" to all three questions.
The graph below shows the Method Information Index from the latest survey available in each country1. Use the drop-down to select seeing the overall MII score, or to explore the score for individual methods (Implants, IUDs, Injectables, and Pills).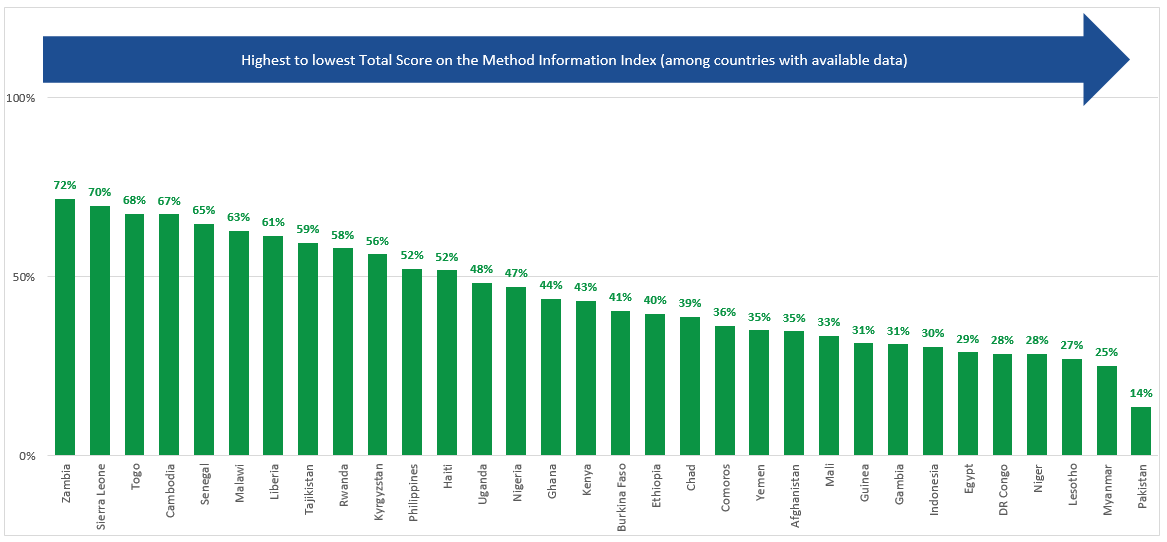 1Based on the latest DHS or PMA2020 survey in each country, see data sources page for details.
Published July 2017